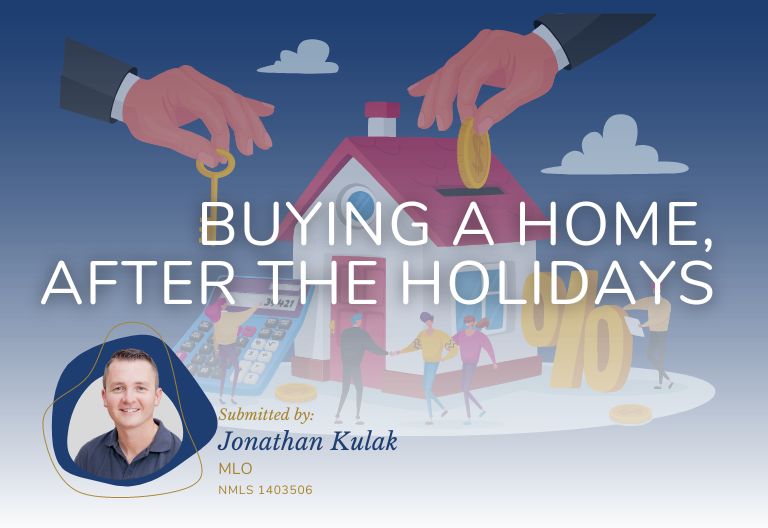 Buying a home, but thin on cash after the holidays
Low mortgage down payment options
I hope the holidays were as good for you as they were for my family and I. As fun as the holidays are, no doubt they can be expensive and make your wallet a little thinner than you'd like. This could be a problem if you're looking to purchase a new home. Holiday debt aside, this is a very common problem new hire pilots bring up when I first talk to them. Having cash in your bank account is a great security blanket but, unfortunately, not everyone has it or is willing to spend it.  It doesn't matter if you're starting at your first or fifth airline, separating from the military, or leaving a left seat regional job for a right seat major airline position, transitions are stressful and can be expensive. Fortunately, a good loan officer can help you navigate through what seems like an overwhelming amount of various mortgage products to find one that can help you buy your new home without eating up too much of your cash security blanket. We're going to briefly look at some of the programs most of the transitioning pilots I work with commonly use.
VA Loan – If you or your spouse have served in the military then a Veterans Affairs (VA) loan is a no brainer. VA loans are government backed which means you'll get the lowest interest rate available with no down payment requirement and no monthly mortgage insurance. You will have to pay an upfront Funding Fee but you have the option of rolling that fee into your loan.  This lowers the amount of cash you need to bring to the table at closing.  Also, if you have a 10% or greater disability rating then you are exempt from the Funding Fee.  The VA loan program is administered/regulated by the VA, but the actual loans are done by private lenders/banks. Most lenders can do a VA loan, but make sure you find a lender who is familiar with them.  VA loans have a lot of requirements that some lenders may not be aware of.
USDA Loans – Very similar to a VA loan, but without the military service requirement, is a US Department of Agriculture (USDA) loan. Despite what you may be thinking, USDA loans are not just for purchasing farms like the name implies. With a USDA loan you get the same type of low interest rate government backed loan with no down payment requirement. Similar to a VA loan you'll pay an upfront Mortgage Insurance Premium that can be rolled into the loan. Unlike a VA, you'll have to pay monthly mortgage insurance for the life of the loan. The big win with a USDA is a low interest rate and no down payment. You'll need to check with your loan officer to see if you qualify because there are income, location, and loan amount restriction If you are a high income earner trying to buy a big home in a big city, then most likely a USDA won't be an option for you. Most loan officers can do USDA loans, but just like with a VA loan, you want to find someone that has experience with them as they can be tricky.
Conventional Loans – Don't give up if a VA or USDA loan is not an option for you.  Most people assume you need a 20% down payment for a conventional loan but now they can be done with as little as a 3% down. Combine that with some seller or lender paid closing costs and you could still get into your dream house without breaking the bank. These special 3% down loan programs are backed by Fannie Mae and Freddie Mac and are available with surprisingly fair interest rates and mortgage insurance.
Obviously, this is a very short and brief list of loan programs available to you. These are simply the three most commonly used programs for new hire/transitioning pilots with little discretionary cash for a down payment. That being said, there are many more programs, options, and ways to customize a loan product to fit your unique situation. You can spend a lot of time researching loan programs yourself, but there are different variables/underwriting rules that could end up derailing your well thought out plan. A brief conversation with a loan officer can save you a lot of time and pain by quickly recommending a good loan program for you. I highly recommend you start the process about six months out from when you want to purchase so you can formulate a solid financing plan and reduce your stress.
The economy is good and lenders want to lend. Don't disqualify yourself from that new home just because you don't think the numbers will work. A quick call to a lender you trust that understands your situation can open up doors you thought were closed and can save you thousands of dollars.
I wish each of you a great 2023 and look forward to helping you in any way I can. Until next month, please feel free to contact me with any questions at [email protected] or on my cell phone at 850-377-1114.
About the Author: Jonathan Kulak is a licensed mortgage loan originator at Trident Home Loans and an Air Force AC-130 Pilot turned airline pilot. Jonathan is a distinguished graduate of both Texas A&M University and USAF Specialized Undergraduate Pilot Training. He has deployed into combat zones ten times and is a veteran of Operations Iraqi Freedom, New Dawn, Enduring Freedom, Resolute Support, and Inherent Resolve. He holds an FAA Airline Transport Pilot and Certified Flight Instrument Instructor license. Most importantly, he is a devoted husband to his wife Lauren, and the proud father of Vivian, Evelyn, Ruth and Jonathan. Trident Home Loans is a pilot/veteran owned/operated mortgage lender and licensed in 21 states. For more information visit www.tridenthomeloans.com, call 850-377-1114 or email [email protected].