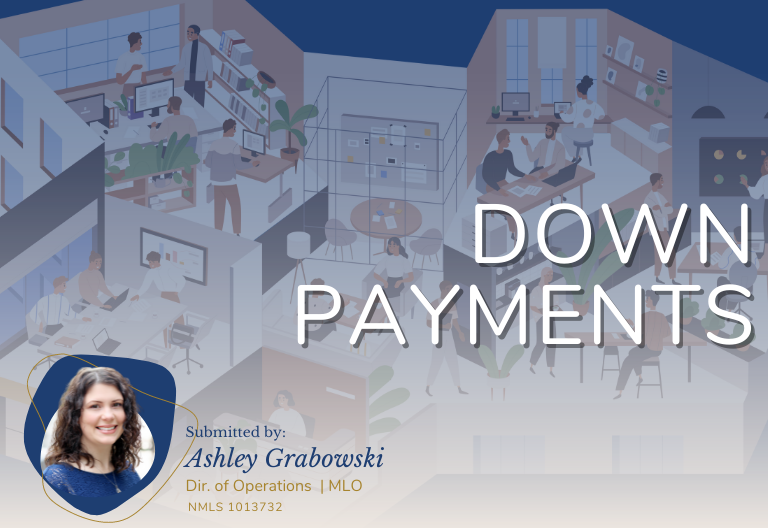 Down Payments
Story By Ashley Grabowski
A big misconception with home purchases is that you have to have a 20% down payment in order to buy  a home. There are multiple loan programs out there that offer lower to no down payment options. Yes,  it is true that to avoid mortgage insurance premiums (MIP) you do have to put 20% down, but that  doesn't mean that you can't buy a home. 
Let's start with the no down payment options – VA and USDA 
VA Loans are available to those currently serving in our armed forces, and those that have previously  served. While VA generally doesn't require a down payment, it does have an upfront funding fee that  can be rolled into the loan amount. If you are planning on purchasing a higher priced home, then you  may be required to put money down. 
USDA Loans require an upfront MIP of 1% and a monthly premium of .35% for the life of the loan. The  upfront premium can either be paid in cash or rolled into the loan amount. 
FHA is a low-down payment option that requires 3.5% of the purchase price to be put down and has a  1.75% upfront premium with a monthly premium of .85%. As with USDA Loans, the upfront premium  can be rolled into the mortgage. The monthly MIP is for the life of the loan. 
Conventional Loans There are multiple conventional loans out there. Some are backed by Fannie Mae  and others by Freddie Mac. There are also special programs available for first time home-buyers, or  lower down payment options. Some of these programs have income limits, and/or require at least one  of the borrowers to be a first time home-buyer. You'll want to speak to your loan officer to see which  option is best for you. The down payment on a conventional loan can start from as little as 3% of the  purchase price. 
Jumbo Loans are generally purchased by private investors, so they have different guidelines than the  other programs. These investors have started to allow 10% down payment options that don't have  mortgage insurance. Depending on the loan amount, the investor may require a minimum of 25%-30%  down. 
Ashely Grabowski is our Director of Operations as well as a MLO | NMLS 1013732. [email protected]