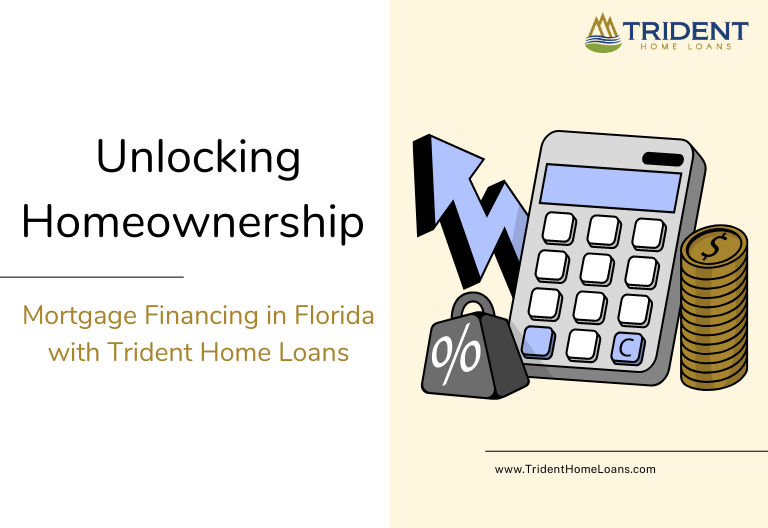 Submitted by: Ben Strother, MLO | NMLS 2136443
Unlocking Homeownership: Mortgage Financing in Florida with Trident Home Loans
Florida's real estate market is thriving, and homeownership dreams are within reach. Trident Home Loans is your trusted partner in navigating the path to homeownership. 
Florida's Robust Real Estate Market: A Snapshot: Florida boasts one of the most dynamic real estate markets in the United States. According to data from the Florida Realtors Association, as of 2022, the state saw a significant increase in home sales, with a 15% year-over-year rise. This surge in demand is attributed to factors like low mortgage rates, job growth, and the state's undeniable charm.
Current Mortgage Rates in Florida: The Competitive Edge: One of the key driving forces behind Florida's real estate boom is the competitive mortgage rates. As of September 2022, the average 30-year fixed mortgage rate in Florida was 3.25%. These favorable rates have made homeownership more accessible to a broader spectrum of prospective buyers.
Trident Home Loans: Your Mortgage Solution: Trident Home Loans specializes in tailoring mortgage solutions to the unique needs of Florida residents. With a diverse range of mortgage products, including FHA loans, USDA loans, and conventional mortgages, we offer flexibility to meet various financial situations. Our commitment to transparency ensures that you understand the terms of your mortgage clearly.
Florida's Thriving Cities: Miami and Beyond: Miami, often referred to as the "Magic City," is a real estate hotspot in Florida. Its diverse neighborhoods, cultural richness, and thriving job market continue to attract homebuyers. According to the Miami Association of Realtors, the city experienced a 12% increase in home sales in 2021. This growth highlights the robust demand for housing in Miami.
Palm Coast: A Hidden Gem for Homebuyers: For those seeking a more serene coastal lifestyle, Palm Coast offers an appealing alternative. Recent data shows that Palm Coast's real estate market is on the rise, with a 10% increase in home values over the past 3 years. This city provides a quieter yet vibrant community, making it an attractive choice for homebuyers.
USDA Eligibility in Florida: Unlocking Rural Opportunities: Florida's landscape isn't limited to its cities; it also includes rural and suburban areas with unique homeownership opportunities. The USDA loan program plays a vital role in facilitating homeownership in these regions. Trident Home Loans can guide you to explore USDA-eligible areas and access these often-overlooked opportunities.
Source: Trident Home Loans
Refinancing for Financial Freedom: Homeownership is a dynamic journey. Trident Home Loans offers various refinancing options to accommodate changes in your financial circumstances. By refinancing, you can potentially reduce your mortgage rate, tap into your home's equity, or consolidate debts, all of which can contribute to your long-term financial stability.
Private Mortgage Lenders in Florida: Tailored Solutions: In some cases, traditional financing may not be the best fit for your unique circumstances. Trident Home Loans collaborates with a network of private mortgage lenders in Florida, enabling us to offer specialized solutions not readily available through conventional means. These tailored approaches can help you overcome challenges and achieve your homeownership goals.
Iconic Mortgage in Florida: Elevate Your Home Financing: Trident Home Loans introduces the Iconic Mortgage program, a unique approach to elevate your home financing experience. This exclusive program goes beyond the ordinary, providing a level of convenience and  personalization that suits your lifestyle and financial objectives.
Your Journey to Florida Homeownership Starts Here: Trident Home Loans is not just a mortgage lender; we are your partners in the pursuit of homeownership in the Sunshine State. With our expertise, transparent practices, and a wide array of mortgage options, your journey to Florida homeownership begins and flourishes with us. Contact Trident Home Loans today, and let's transform your homeownership dreams into a Florida reality.
Ben Strother
MLO | NMLS 2136443
(703) 727-5911