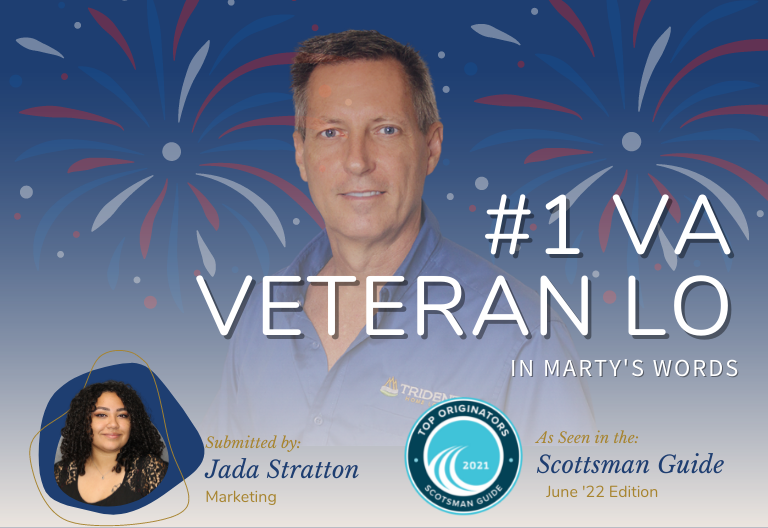 No. One VA Veteran Loan Originator in the Country
Original Article in the July 2022 issue of Scotsman Guide – Hannah Darden & Brian Warr
At Trident Home Loans, we are a Veteran Owned and Operated Company where we strive for the best  customer service and clear communication with our clients. We have held that mission for over 15  years. Year after year, we rely on client testimonials to build our reputation and business. With the hard  work of our team and the guidance from our COO, Marty Medve, we work every day to help clients and  their families finance their next home. Here, from the word of Marty himself, are the words of his  success in 2021 which led him to be named the No. 1 Top Veteran Originator of 2022, as seen in the  Scotsman Guide Residential Edition of July 2022. 
"Marty Medve doesn't want to talk about himself.  
After ranking as the No. 1 Top Veteran Originator and No. 1 Top VA Volume producer for the second  year in a row, you'd think he'd want his time in the spotlight. Over the course of a conversation with  Scotsman Guide, however, Medve chose to shine the spotlight on his community- the "corps" of pilots  he's hired, the veteran borrowers he serves, and the philanthropic organizations his company, Trident  Home Loans, donates to. 
"I was surprised to get No. 1 this year," Medve said. "Half of my loans went to my loan officer corps." 
A U.S. Naval Academy graduate who went on to become a carrier pilot, Medve has dedicated his post military career to his fellow veterans. He hired 25 former pilots as loan officers last year and has built  relationships with veteran Realtors. Five years ago, Trident Home Loans began sponsoring military events and charities. Since then, the company has expanded its military sponsorships by tenfold.  
"We're deeply involved in giving back to the people who support us," Medve said. "That's our ethic." 
He said there are a few keys to his success as a n originator who specialized in VA loans. Medve  emphasizes that he doesn't allow for any "tricky referral schemes" and values transparency with his  clients. Good communication, education on VA loan products, consistently low interest rates and quick  closings are all part of his client-service agenda.  
Most importantly, Medve said he spends hours talking to listing agents on behalf of his borrowers. 
"We're more important to the buyer because we will actually talk to the listing agents and convince  them to take the offer," Medve said. "They want the best for their seller and they want trust. If a buyer  is backed by the No. 1 loan officer, they'll want to go with that offer."