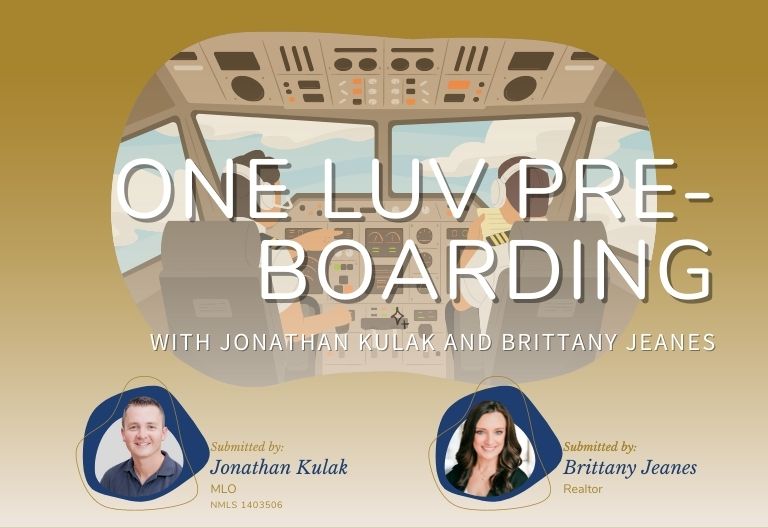 One Luv Pre-Boarding
Hello future Southwest Airline Pilots! Trident Home Loans' Jonathan Kulak and Hale Brokerages' Brittany Jeanes have partnered to bring you a brand-new partnership that will help you every step of the way as you relocate once you start your new position with Southwest Airlines (SWA). The #1 situation after someone gets hired as a pilot is "How do we move and get qualified on year one pay?" or "We would like to move before I start training." We are here to help!
Jonathan is an Air Force Reservist and SWA pilot. He is a distinguished graduate of Texas A&M University and USAF Specialized Undergraduate Pilot Training. He is licensed to originate mortgage loans in 29 states and nearly every SWA domicile. Jon is one of the top loan originators in the country, and he is also an SWA Pilot! He knows the ins and outs of Pilot pay and can help get you qualified before making the big move.
Brittany has been a realtor serving the Dallas / Fort Worth area and a Real Estate Consultant at Texas Realtors since 2006. Currently, Brittany is part of the Hale brokerage and is the wife of an Air Force and commercial pilot and mother of 3 beautiful children.
Their combined experience in and with the military as well as intricately managing the struggles of future pilot pay, bring a team together that can get the job done seamlessly and with unmatched customer service. We know other lenders are not as familiar with pilot pay or won't lend based on "future income." We can provide a solution to this problem and help you navigate this exciting new chapter here with Southwest Airlines! To learn more about this program go to One LUV Pre-Boarding | Facebook.