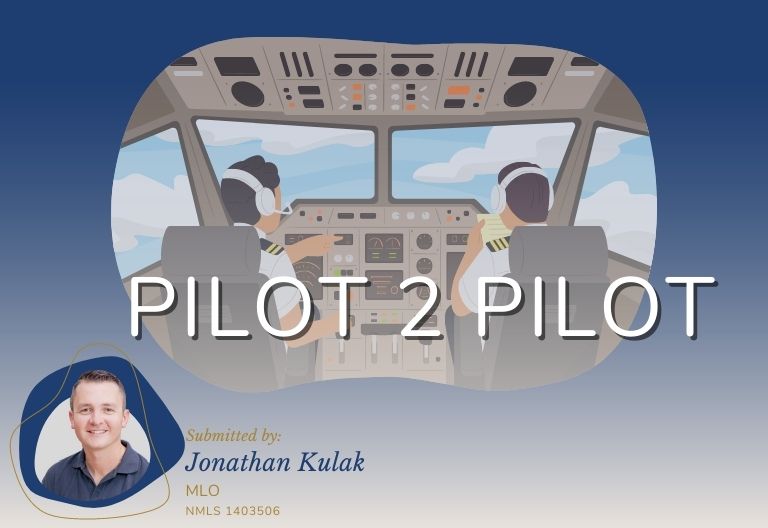 Pilot to Pilot
Jonathan Kulak is a pilot, both a military pilot for the Aire Force Reserves and a commercial airline pilot. With his experience, Jonathan can help our potential borrowers who are pilots, possibly in the same position or transitioning from different pilot jobs, whether military or commercial, and how Trident could assist in these particular situations.
For those who don't know, Trident Home Loans is owned by two commercial airline pilots. Currently, there are super exciting things happening in the airline industry. Multiple airlines are hiring over 2000 new first officers in the next year. Some pilots might be upgrading from the first officer to Captain. So, with new contracts, pay raises, and more hiring going from the regionals to major airlines, military folks transitioning may have to relocate their family.
A big topic with pilots buying homes is what pay you can use and people don't understand how airline pilot pay works. Trident Home Loans started as a company that was a side business for a couple of pilots that then grew and grew into what it is now. With that experience, we are definitely, uniquely positioned to be able to help folks during the transition period. Some of the big highlights of things that I think are worth sharing is you can get a loan before starting at a new airline or even transitioning to a different aircraft if your pay is increasing. There are ways to do that, and it's usually a teamwork effort between us, the borrower, and the airline regarding documentation.
However, I've done loans for folks joining airlines 60 days before even starting their class with the correct paperwork. So, there are a lot of options that are out there. We are also aware of different pay based on your scenario. Most underwriters and many other lenders don't understand that pilots are salaried employees. Even though we work hourly, we receive minimum pay. At Trident, we look at it as a salaried employee, and you can use minimum guarantee times or hourly. Say you're going from First Officer to Captain; you can use the pay scale for Captain with the proper documentation from the airline.
Regarding our loan officers, we have experience with almost all airlines and throughout the country. We have loan officers who would love to chat with you and help you work through and navigate it so that the transition can be exciting and won't be daunting. We also have a great network of preferred partners. Some of them are pilot spouses, and some are airline pilots who work as realtors in different areas. You can find them on our website tridenthomeloans.com/preferred-partners, and you can reach out to them for help finding a home. And then we certainly would love to be the ones to help you finance it.
You can reach out to any of our loan officers here at Trident Home Loans by calling us at 850-343-0400.