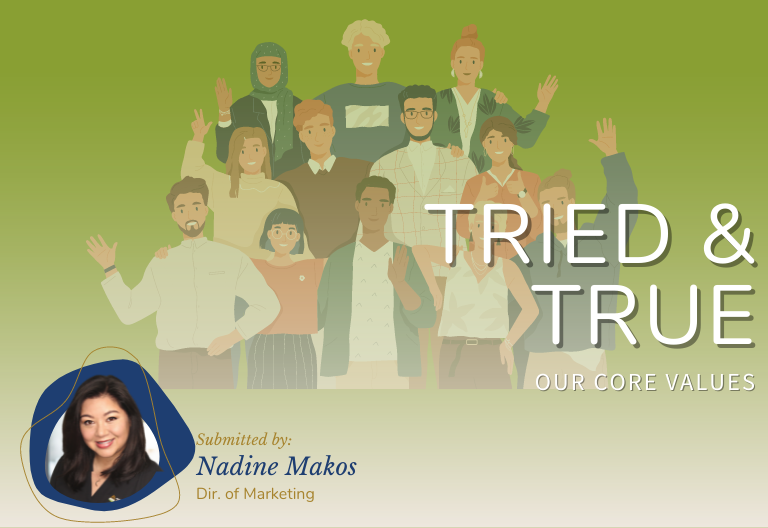 Tried and True
Story By Nadine Makos  •
During a recent leadership retreat, we discovered a common theme among our collective ideals when it  comes to Trident Home Loans. Our reputation was not built overnight. Time after time, we have proven  to our clients and investors that we are here to make sure you receive the highest quality home loan  care. This includes competitive rates and reliable service as well has building trusting relationships.  
These relationships can be short and sweet – or lifelong journeys. Either way, it all starts the same, with  the following principals that are the foundation of our business: 
TRUST -We work hard to establish and maintain a reliable, truthful, and honorable experience.  
RESPECT – At Trident we appreciate those that give us their time and attention. We aim to  protect their privacy and peace of mind.  
UTILIZE – We work as a team and apply our resources to assure our clients the best possible  experience.  
EXCELLENCE – Client referrals speak to our dedication and hard work. Our goal is to provide less  stress, more options.  
Now, these ideas are not new or groundbreaking – that's because they are no doubt Tried & True. As are we, as evident with our 5 Star reputation and many client referrals. These core values start from the  top and reach all the way to our client's new doorsteps. There is no way we would be as successful as  we are today with out the referrals of our satisfied clients and staff. It means so much to us that our  clients are choosing to come back to us time and again. It means even more that they refer us to friends  and family – that is trust right there, and we are sure to deliver.  
Yes, we offer excellent competitive rates, a wide variety of loan programs, and a plethora of knowledge  from our experienced and seasoned staff. However, it's our ability to build those lasting relationships